CALISTHENICS ONLINE VIDEO LESSONSCALISTHENICS ONLINE VIDEO COURSES & WORKOUT
CALISTHENICS ONLINE VIDEO LESSONS, BEGINNER, EXPERT AND ADVANCED COURSES
Train wherever and whenever you want!
SUBSCRIBE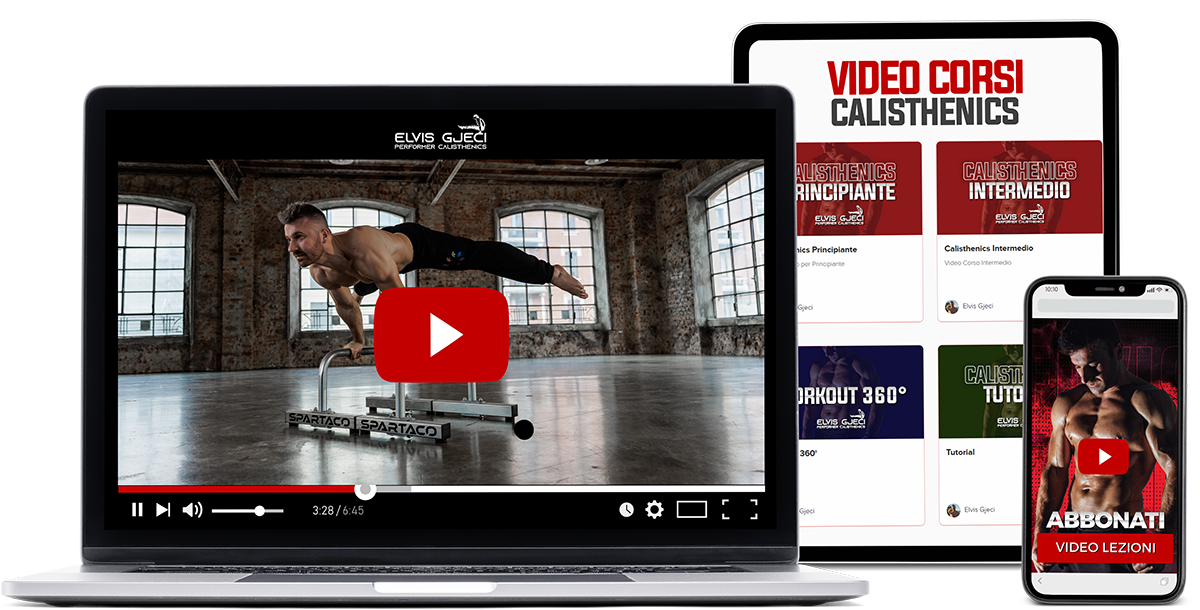 From your computer, tablet or by downloading an app in your smartphone
25€
per month for all courses
350+ REGISTER
100+ LESSONS FOR ALL LEVELS
50+ NEW LESSONS EVERY YEAR
Welcome to the first school of calisthenics and online workout. A platform with constantly updated video lessons with new video workouts and tutorials for the main calisthenics skills and much more. You will have the best workouts with specific exercises targeted to your level.
I am Elvis Gjeci, former athlete and multiple champion of artistic gymnastics of the Italian National Olympic Committee (CONI). I will show you all the techniques, the preparations and the fundamental aspects that enable you follow a professional and safe training.
If you're starting from scratch, don't worry! With the video lessons where I will show you all the technical aspects you will be able to progress in the best possible way, without any kind of blockage during your journey! You know...having a good technical base will lead you to progress steadily without stalls during your journey.
If your level is medium-advanced and you're tired of doing the usual exercises you see everywhere… then you're in the right place!
With this subscription you will have hundreds of videos of workout and calisthenics lessons available.
There will be new exercises and calisthenics tutorials always updated every week.


THE SKILL YOU WANT IS NOT LISTED?
Don't worry about it! Just send me an email and in a short time I will release videos related to your request at no extra cost! It will all be included in your subscription!
What are you waiting for! Enter the fantastic world of calisthenics and free body training!